A VERY WARM WELCOME TO OUR SPANISH CULTURE AND CUISINE GROUP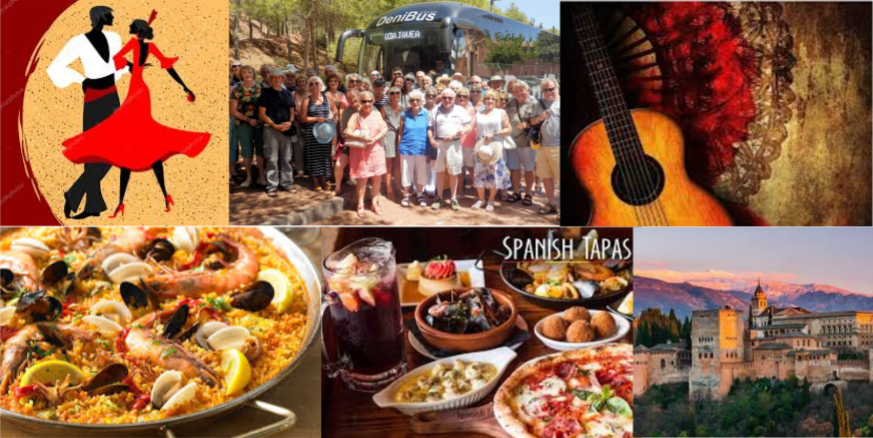 Our aim is to embrace everything that we love about living in Spain, along with like-minded friends who enjoy sharing experiences in a sociable atmosphere. Every 7-8 weeks we will offer events/day trips/holidays to places of special cultural and historical interest where we can experience the typical cuisine of the region; booking is on a "first come first served basis" and is available to all current members of the Jávea U3A. If you would like to be included in our mailing list to receive advance information, please send an email to Angela and Tony: spanish.culture.cuisine@u3ajavea.com
Now please read THE SMALL PRINT!
Below – after the information about forthcoming trips – you will see the "terms & conditions" – any request to book a trip will mean that you have accepted and agreed to them.
PAYMENT FOR EVENTS/TRIPS:
There are 3 easy ways of making your payment:
By bank transfer.
By card.
By paying in cash at your bank with the payment slip for the Javea U3A bank account.
Click here for full details of how to make a payment to the Javea U3A.
---
PROGRAMME FOR 2023
---
THE SMALL PRINT!
Please read the following "terms & conditions", as any request to book a trip will mean that you have accepted and agreed to them.
TERMS AND CONDITIONS
1. The Jávea U3A and group leaders involved in organising trips and events take every care to ensure that the health and safety requirements of members are taken fully into account. However, they are not liable in any respect for any loss or injury that may be suffered by members whilst participating in the Association's activities.
2. Only current members of the Jávea U3A may take part in trips and you will be required to give your membership number when booking. Membership is not transferable between different U3A branches, whether in Spain or elsewhere.
3. Some tours/events may not be suitable for members with mobility problems – if you are at all unsure about the walking or difficulty level of any tour, please discuss this with the group leaders prior to making a booking.
4. Group leaders try to ensure that some places are available for "solo travellers", but the availability of rooms is determined by the hotel/s involved.
5. Any changes to the event/trip offered which may become necessary, either prior to the commencement or during the course of the tour, are solely at the group leaders' discretion and members' safety will always be paramount; for example, inclement weather may result in certain activities being cancelled at short notice (such as boat or train trips), schedules for visiting monuments etc may be changed, or planned festivals may be cancelled.
6. Members will be made aware of when and how to book any tour and of deposits required – reservations are confirmed once the deposit (or full amount for day trips/events) has been paid.
7. In order to prevent the large amount of cash which has often had to be dealt with at the monthly Jávea U3A meetings in the Parador, the method of making payments has been simplified and a number of options are now available – see the section below on "Payment for Trips and Events". Should you have any queries concerning payment, please email the group leaders.
8. Transfers received from a bank outside of Spain, for example, a sterling UK account, incur a charge of €18 which is the responsibility of the member concerned, not the Jávea U3A. It is preferable to make payments via a Spanish account only.
9. Cancellations and Refunds
a) The deposit/further payments are non-refundable if you subsequently cancel your booking. You are advised to let the group leaders know immediately by email, as they may have a reserve list of other members wishing to participate in the event/trip and the group leaders will arrange a transfer of the booking and a full refund of any payments made by the member/s cancelling.
b) If no other members take over the reservation, a partial refund may be possible, dependent upon the notice given to the group leaders and the "fixed costs" which are shared between the members on the tour, for example, the cost of coach hire and the driver's accommodation and meals during the tour.
c) In the event of a travel agent/hotelier/restaurant becoming bankrupt, the Jávea U3A would not refund any losses that may be incurred and you therefore need to ensure that your own personal travel insurance policy provides cover for any such losses.
10. Travel/Health Insurance
a) Members who are resident in Spain are responsible for ensuring that they have appropriate travel insurance for their own needs.
b) Members who are UK residents are expected to have comprehensive travel insurance for their stay in Spain which must include any travel trips undertaken during their stay.
---