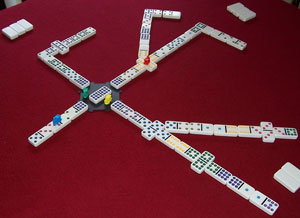 Group Leaders David and Barbara Woodhall
Email Address mexican.train@u3ajavea.com
Meeting Venue Cafeteria SuperCor, just at the entrance to the supermarket.
Meeting Day and Time Every Friday, 14:45 for 15:00 prompt start Finish at 17:00.
Mexican Train is played with multi-coloured dominoes where the players form 'trains' from consecutive numbers/colours. There are a few rules which dictate what you can and cannot do so players need to employ different strategies to win.
New members welcome.
The basic rules can be learned very quickly and the different strategies will come with playing.
It is a fun game with a great atmosphere so why not give it a try. Just turn up, play it once and see if you like it.
Contact the group leaders by email mexican.train@u3ajavea.com