Group Leader: David & Genevieve Lawrence
Email: discussion@u3ajavea.com
Meeting Venue: Centro Social, next to the Centro de Salud, Plaza de la Constitución, 1st floor, end of corridor
Meeting Day and Time: Last Friday of the Month, 16:00 to 18:00
Accepts new members: Yes
Upcoming Discussions
Plaza de la Constitución, Javea
No event found!
The Discussion Group is a very informal gathering of people who meet to discuss a topic which is usually chosen by those attending the previous month's discussion. Anyone can suggest a topic and if the majority agree then that is what we will discuss at the next meeting. This gives everyone some 4 weeks to do whatever research they wish on the topic before the meeting.
The discussions are carried out in a friendly and respectful manner and everyone is given time to state their views. No-one needs to speak if they prefer not to. You can just sit and listen to the thoughts and ideas of others, but you will be surprised how often you do have an opinion you want to voice. Whilst we may not 'put the world to rights' the exchange of ideas and information is often really stimulating for your mind.
We usually average around 12-15 members at each meeting and welcome people to join our group. If you have an opinion and want to share it, we want to hear it.
If you wish to join or require any information on this group, please contact the Group Leader on the email address above.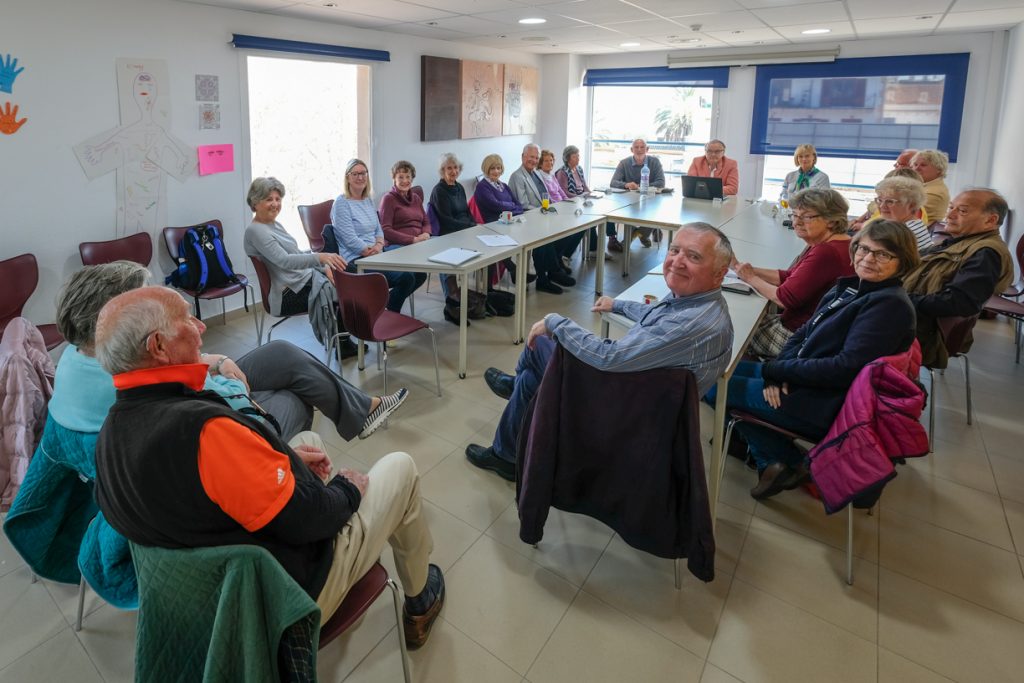 Previous discussion topics have been:
2020/21
How dangerous is it to interfere in other countries elections?
Why are people so irresponsible about their health?
Big Business – is it harmful to the planet?
The silence of others – forgetting.
Nationalism & Populism.
Spain – political history
How not to be ignorant about the World.
Covid, vaccines and politics.
Gender – what's it all about?
Afghanistan – what has the West learnt from the last 20 years?
2019
The benefits of multiculturalism – are there any?
Is free speech in jeopardy?
Is it okay to pursue something honourable by dishonest means?
Should prostitution be legal?
Genetic modification – is it beneficial?
Is Misogyny a hate crime?
How dangerous is it to meddle in other countries elections?
Religion and Spirituality – what are they and what is the difference?
How can we resolve the migrant crisis which is escalating in many countries around the World?
Are we at, approaching or beyond the tipping point of the Planet's survival as it is related to 'Global Warming'?
2018
Is Western civilisation at an end?
Is religion a valid philosophy?
Is there a place for activism in today's World?
The geopolitics of the Gregorian Calendar.
Plastic is destroying the Planet – what are the solutions?
Have values changed in the modern world?
The Spectacular rise of China – should we welcome it or should we be worried.?
Is the digitalised world leading to a work compliant society?
Are there sociological effects from having a cell phone?
Gun laws in the USA – why do so many people feel the need to own a gun? Why is the NRA so powerful?