TWO PLACES ARE NOW AVAILABLE (TWIN/DOUBLE ROOM)
5 Days – 4 Nights
Trip date 10 – 14 May 2020
For more information follow this link http://patios.cordoba.es/en to the Patios of Cordoba website for 2019 (the 2020 website has not yet been released).
The Patios Fiesta of Cordoba is a unique world-famous attraction covering about 15 days during May every year. It has become one of the must see attractions in Spain. We will be spending three full days and four nights in Cordoba to enable us to really experience this truly spectacular event.
The trip is fully booked, but if you would like to be considered for a last minute cancellation please do let me know.
Travelling by coach from Javea to Cordoba, with plenty of comfort breaks on the way, our hotel is situated in the old town with the various patios within walking distances. We will be staying on a bed and breakfast basis only, this will enable us to enjoy the many tapas bars and restaurants situated all over the old town – and most are very reasonably priced.
We can also visit many of the beautiful buildings in the City. For example, the Mosque of Cordoba is one of the largest in the world, and is considered the most important Islamic monument in the West.
We will be staying at the 4 star Hotel Eurostar Conquistador on a bed and breakfast basis (hot buffet breakfast) in the old town opposite the mosque.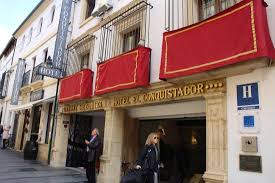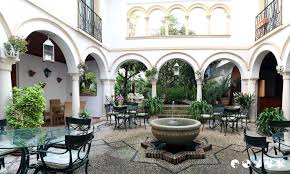 One of the very special archaeological sites in the region is the Medina Azahara situated just outside of Cordoba. This is easily reached from the town, and we are hoping to arrange a guided tour and travel by shuttle bus from Cordoba. Full details available later. However all of the information is on the website here http://www.museosdeandalucia.es/web/conjuntoarqueologicomadinatalzahra/inicio
We will be using Gandia Travel for this trip. They have supported Javea U3A with their expertise on many occasions in the past, and I am confident this will continue.
The total cost is confirmed at 470 euro each
A single supplement of 75 euro will apply
A PAID DEPOSIT OF 150 EURO EACH PLACE WILL CONFIRM YOUR BOOKING
Deposit payments are preferred by Bank Transfer (please quote the trip name as the reference). Click here for Bank transfer
IMPORTANT – To ensure we can allocate your bank transfer payment correctly please quote the name "Cordoba" in the Concepto box on the transfer form, the box is quite small, but we don´t want to allocate it to another member!
Important Note: If you have mobility issues please do let us know at the time of booking and we will try to arrange a seat near to the front or the rear stairs of the coach.
Trip Leader: Dave Butt Email travel.db@u3ajavea.com/